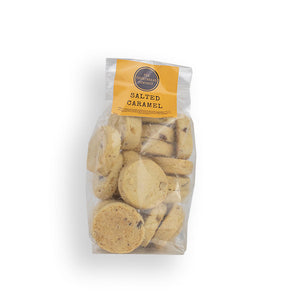 Mini Bites - Grab Bags

General Information:
Good for:
your kitchen cupboard
yourself
on the go
as well as:
birthdays 
loved ones 
Thank you gift
gift for him or gift for her
children's party
self-indulgence
Packs are perfect for any celebration
Indulge in our Mini Bites - Grab Bags perfect for sharing (or Not)
These packets of biscuits are perfect for home treats and especially with that hot cup of tea in the morning or evening.
Flavours:
All Butter shortbread - Luxury. Simply delicious. Yum.
Salted Caramel - You've got to try it!
Fiery Ginger + Milk Chocolate - Has a kick. But delicious!
Strawberry and White Chocolate - strawberry +white choc + shortbread = delicious
 Terrys Chocolate Orange - Chocolate orange goodness
Cherry Bakewell - Nom, nom nom...
Ingredients:
Shortbread - Flour, butter, sugar.
Flavours - Strawberry pieces baked and White Chocolate Chunks. Salted Caramel Pieces. Milk Chocolate Chunks. Terry's Chocolate Orange pieces. Cherry Bakewell - cherries almonds, almond flavouring. Crystallised ginger.
Allergy advice - contains wheat and gluten. Our shortbread is baked in a kitchen where nuts are used. Contains nuts in (cherry Bakewell)
How long does the shortbread last?
Our handmade all butter shortbread last 6-8 weeks stored correctly (in a cool dry place) and six months in sealed packets. Our shortbread also like to be stored in an airtight container, especially in a biscuit tin! They can be frozen for up to 6 months and still taste amazing. 
Processing + Delivery
Our luxury all butter shortbread mini bites are baked fresh within 2 days of your order, then will be delivered by courier and arrive at your designated address within 7 working days from the day of your order. Delivery date is not guaranteed. Delivery is currently FREE in the UK for this item. Total process time is currently 3 -7 working days. (UK).
See shipping terms for other countries at the checkout.
Amazing shortbread
So creamy, me and the family really enjoyed. Will definitely be buying more