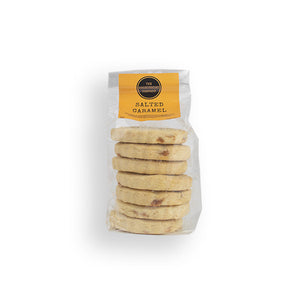 Kitchen Cupboard Shortbread
 £8.00 each or 3 for £20 
*simply add 3 packets to your cart and enter discount code 3FOR20
You can choose different flavours by adding one at a time to the cart. On the 'checkout' page enter the discount code if it is not applied automatically. 
General Information:
Good for:
your kitchen cupboard
yourself
as well as:
birthdays 
loved ones 
Thank you gift
gift for him or gift for her
children's party
self-indulgence
Packs are perfect for any celebration
Indulge in our Kitchen Cupboard Shortbread Biscuits perfect for sharing (or Not)
These packets of biscuits are perfect for home treats and especially with that hot cup of tea in the morning or evening.
Packet of 6
6 per pack of our luxury all butter shortbread biscuits, sealed for freshness. Your shortbread is safely packaged and delivered to you or anyone you choose. 
Flavours:
All Butter shortbread - Luxury. Simply delicious. Yum.
Salted Caramel - You've got to try it!
Milk Chocolate - Classic.
Strawberry and White Chocolate - strawberry +white choc + shortbread = delicious
 Terrys Chocolate Orange - Chocolate orange goodness
Mixed Berries - Nom, nom nom...
Strawberry + Coconut - Oh my! 
This shortbread is our original sized shortbread measuring 7cm in diameter and half an inch in thickness!
Ingredients:
Shortbread - Flour, butter, sugar.
Flavours - Strawberry pieces baked and White Chocolate Chunks. Salted Caramel Pieces. Milk Chocolate Chunks. Terry's Chocolate Orange pieces. Mixed Berries - cherries blueberries and cranberries. Desiccated coconut.
Allergy advice - contains wheat and gluten. Our shortbread is baked in a kitchen where nuts are used.
How long does the shortbread last?
Our handmade all butter shortbread last 6-8 weeks stored correctly (in a cool dry place) and six months in sealed packets. Our shortbread also like to be stored in an airtight container, especially in a biscuit tin! They can be frozen for up to 6 months and still taste amazing. 
Processing + Delivery
Our luxury all butter shortbread Kitchen Cupboard Biscuits Selection boxes are baked fresh within 2 days of your order, then will be delivered by courier and arrive at your designated address within 7 working days from the day of your order. Delivery date is not guaranteed. Delivery is currently FREE in the UK for this item. Total process time is currently 3 -7 working days. (UK).
See shipping terms for other countries at the checkout.